Q. Who are we?
A:We (http://www.fabriccounty.com) the expert in the section of fabrics and pure silk bedding sets. We are passionate about fabrics and pure silk products.We sell all kinds of fabrics to companies abroad and pure silk related products to companies.We have a lot of equipments such as water jet looms and twisting machines and dyeing machines and jacquard machines,besides this we also have one workshop which produces pure silk related products.If you have any interest on the products of pure silk related products.Then you could visit the products on the down left side of the page as the picture shows below: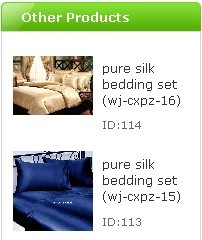 Want to know more about us :more details click here!
Q. Whats the function of the keywords at the bottom of every page?


A: These keywords are made for visitors,considering visitors' convenience.Because the wide range of fabric classification,the category section on the left side of every page can't classify the fabrics well.So we add these keywords to classify the fabrics in another way.(the left side of the category is classified by fabrics name such as
oxford fabric
,
satin fabric
and so on.But somehow if one visitor wants to get the list of polyester fabrics,then he or she may fall to get the list,cause
oxford fabric
and
satin fabric
could both be made of
polyester
.So in order to get the list of the fabrics made of
polyester
or
cotton
,then our company adds two keywords
polyester
and
cotton
at the bottom of every page,then users can get the list just clicking the keywords below every page) .