Suzhou Cocoonman Textile Export Import Co.,Ltd(Fashion & Fabric)
is located in shengze Town which has a reputation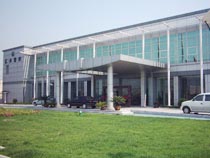 of a well-known silk town in suzhou since ming
dynasty.Shengze is very near to the financial center-
Shanghai and hangzhou, with advantageous
geographical conditions and convenient
transportation.
150 jacquard looms and one pure silk products workshop.

Our products have enjoyed a high reputation among some famous domestic companies,
and are also shipped to Hong Kong, Japan, Europe, and the United States. At present, our
and polyester fabrics are leading their domestic counterparts. These include the
Our products can be used in a various kinds of things, such as
fashion wear, leisurewear, jackets, down garments, sportswear, uniforms, umbrellas,
tents, pajamas, suitcase, shoes, and ornaments.Whats' more we even started to produce
Focusing on continuous innovation, the improvement and strengthening of systematic
management has enable us to fulfill customers' specifications effectively so as to
satisfy their needs. Providing good quality products at competitive prices and excellent
service.